It's in the (makeup) Bag!
We literally wear the same makeup everyday. We rarely step out of our routine – because when we do – it just feels uncomfortable. We've tried different shades of red lipstick for winter and deep burgundies for fall but found that reapplying our lipstick more than 5 to 6 times a day was just a little to much for us. Believe it or not (for the most part) we're actually pretty low maintenance. In the morning it takes us about 15 minutes to do our makeup and maybe 20 minutes if we're heading out to drinks with friends.
The trick: we stick to products that makes us feel confident. Keep scrolling down to find out!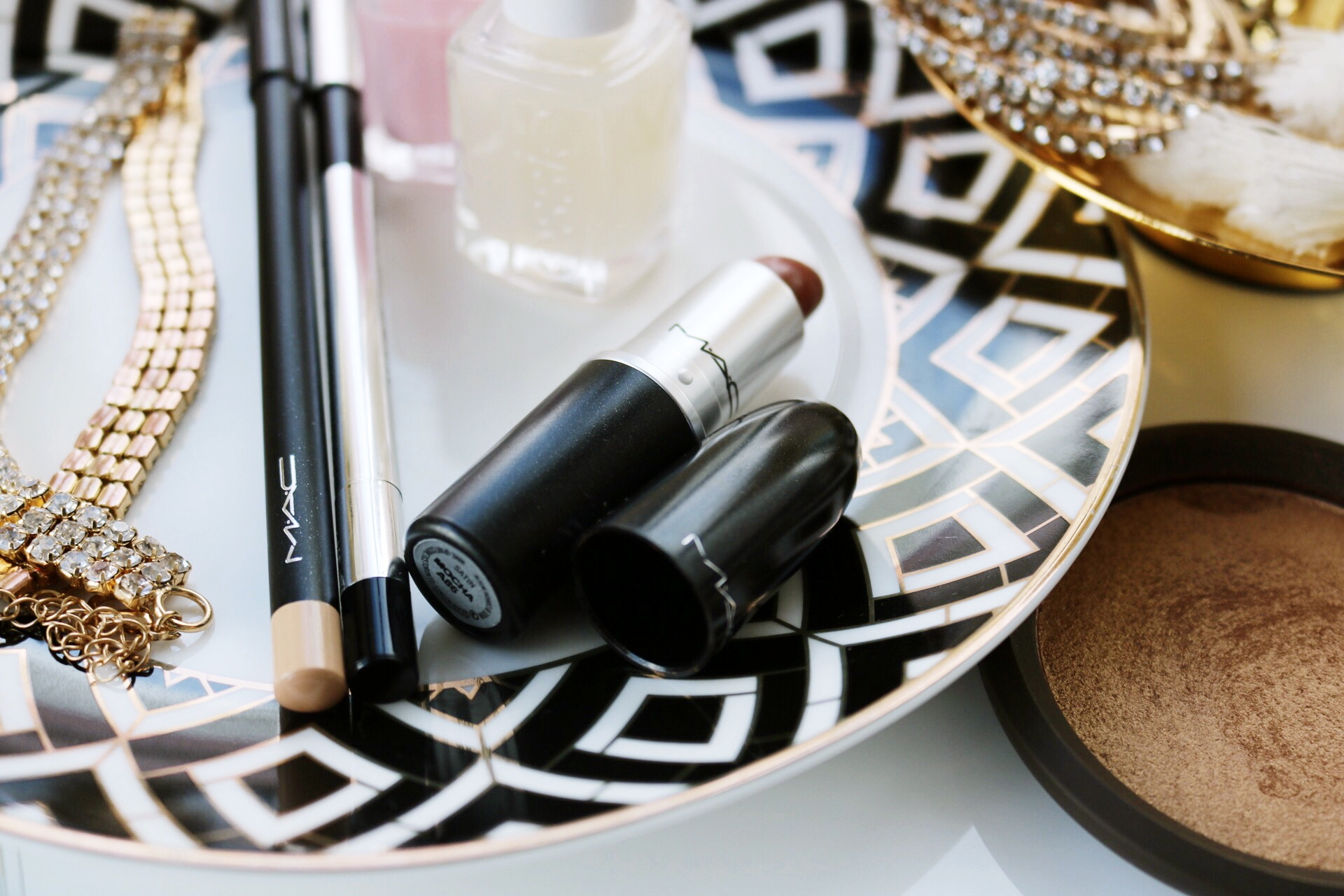 5 of our faves!  
We've been wearing this color for about 8 years. This lipstick has a pink/taupe undertone – enhances our lips without looking too heavy or forced! Perfect color for work or an evening out with your love!
2) MAC STUDIO CHROMAGRAPHIC NC25/NC30 
We discovered this liner after watching one of Patrick Ta's makeup turtioals online. Apply this liner to your waterline and BOOM you look even more awake. Plus, it really gives you  that "no makeup" look.
3) SHIMMERING SKIN PERFECTOR  IN TOPAZ
This highlighter is PERFECTION. We apply it after our bronzer to give us that luminous "J.LO glow".
4) ROLLER LASH CURLING MASCARA in BLACK
Okay, this is hands down the best mascara EVER. Not only does it make our eyelashes curl but it nourishes them also. Our eyelashes have never been this long and thick. Promise you'll love it.
5) MARC JACOBS GEL EYE CRAYON in BLACK
We can't tell you how many times we've been asked about our eyeliner – the secret – apply a gel liner first. This liner glides on easy, is waterproof, easily wipes off and it has a secret sharpener.
What are some of your everyday makeup products?  Let us know in the comments section below!
xoxo,
Feven & Helena #twinship