#COOKINGWITHEFEVEN :: GARLIC MASHED POTATOES 101 ?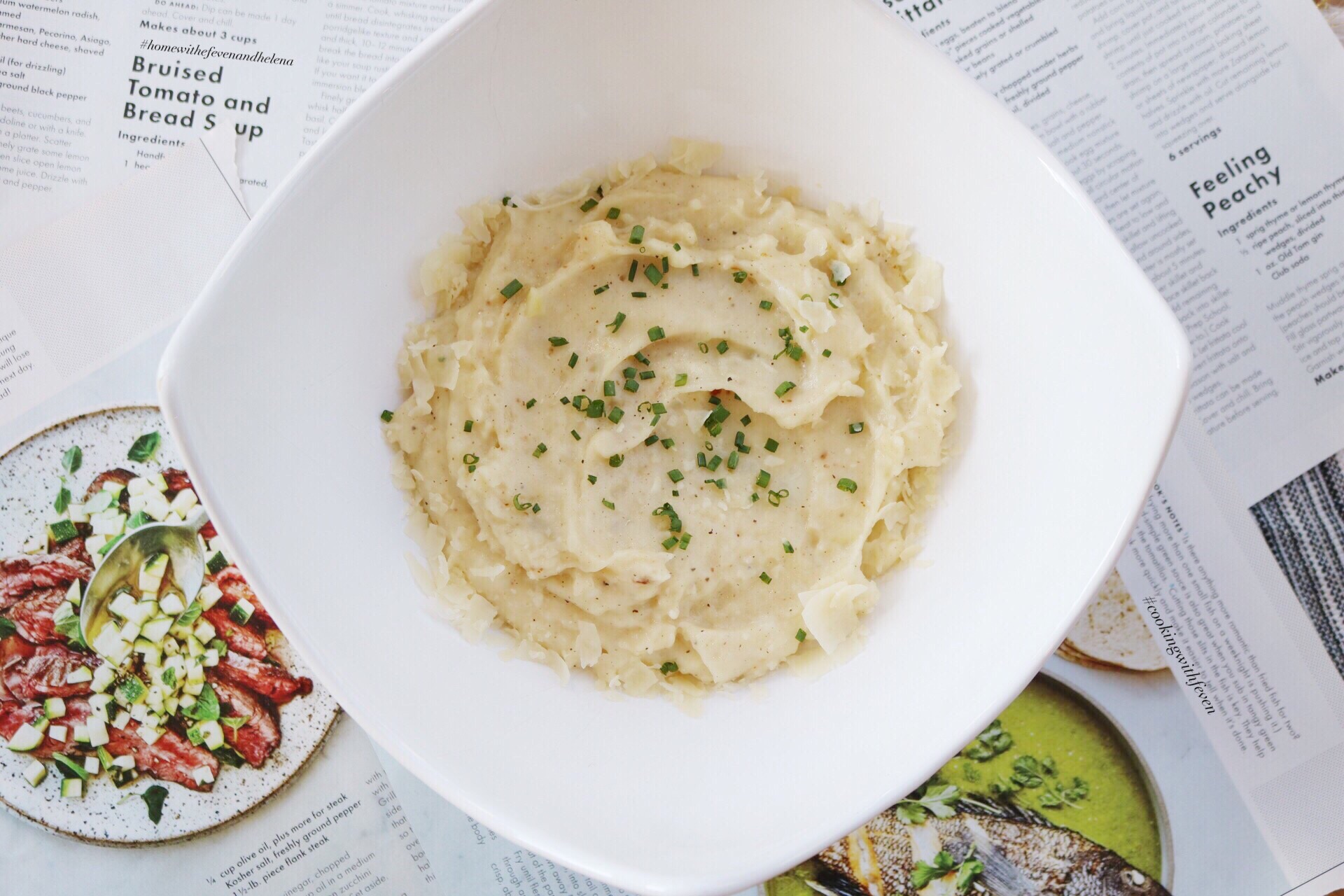 Happy Sunday!
Thank you for hanging with us on Instagram LIVE today. We realize a lot of things are happening in the world and the fact that you took the time to tune in is not lost on us. We really are grateful!
Get ready to look like a boss in front of your friends and family with the easiest garlic mashed potatoes EVER.  We know — carbs are really not our friends — they cause what we refer to as "carb face." "Carb face" is the condition in which your cheeks look like they have been pumped with air and your eyelids look like they are swollen shut. Now we do realize that "carb face" is NOT a real ailment but it sure does feel real to us! Thankfully, Sunday is our "cheat day" so we will definitely be indulging this afternoon with you all, but for the remainder of the week, we will be avoiding the: butter, cream, cheese and potatoes as much as possible. No lie…the cheese part is really hard but we've learned in life you can't deprive yourself too much. After all…you can have it all…just not all at once.
Ok, we digress…here's what you need to look like a: "I'm not bossy…I'm the boss…" cook in the kitchen:
Prep time: 10 minutes
Cook time: this really depends on the size and chunks of your potatoes.  But if you cut them into smaller pieces they will cook faster!
3-4 russet potatoes (make sure to peel and chop then in cubs before throwing them in hot boiling water.)
One table spoon of chicken broth (make sure to add the broth to the water. If you don't like chicken broth you can skip this part but we find it makes your potatoes more flavorful.)
5 Garlic (we are obsessed with garlic! If you love it as much as we do — add one garlic clove to the boiling water — it's a great way to infuse the flavor. Finely chop the remaining garlic 4 garlic cloves. If you are not someone who loves garlic — just use 3 cloves — it will still taste amazing.)
1 cup of cream (just go for it…you can workout tomorrow!)
2 tablespoons of room temperature butter (you could do 3 but we know everyone is trying to look sexy for Halloween.)
1/2 cup of Pareman (honestly, we perfer the Trader Joe's 3 cheese blend but you can use shaved Parmesan….just please nothing powdered.)
THE PLAY BY PLAY:
1. While potatoes are cooking, in a small sauce pan add the cream and garlic. As soon as you see the garlic and the cream cooking, remove from heat and let it set for a bit.
2. Remove the cooked potatoes and drain. Put them back in the pot and mash them first with a potatoe masher. We personally don't use a hand-mixer but if you have one…go for it!
3. Then at low heat add the cream and garlic mixture to the mashed potatoes.
4. Add room temperature butter to the potatoes.
5. Then add the Trader Joe's cheese blend. If you don't have Trader Joe's — you can use shaved Parmesan just please NO powder cheese PLEASE.
6.  Next step…season with salt & pepper. If you're anything like us (the one who isn't afraid of a little pepper) you might want to season it more!
7. Turn the heat completely off and let the mashed potatoes rest in.
8. Lastly, plate the mashed potatoes in a chic white bowl add those chopped chives!
Now you're done! See how easy that was? Serve immidately and watch everyone's faces light up in amazement as you confirm was a boss you truly are!
Xoxo,
Feven & Helena
#twinship