#COOKINGWITHFEVEN: Lemon & Arugula Spaghetti 🍝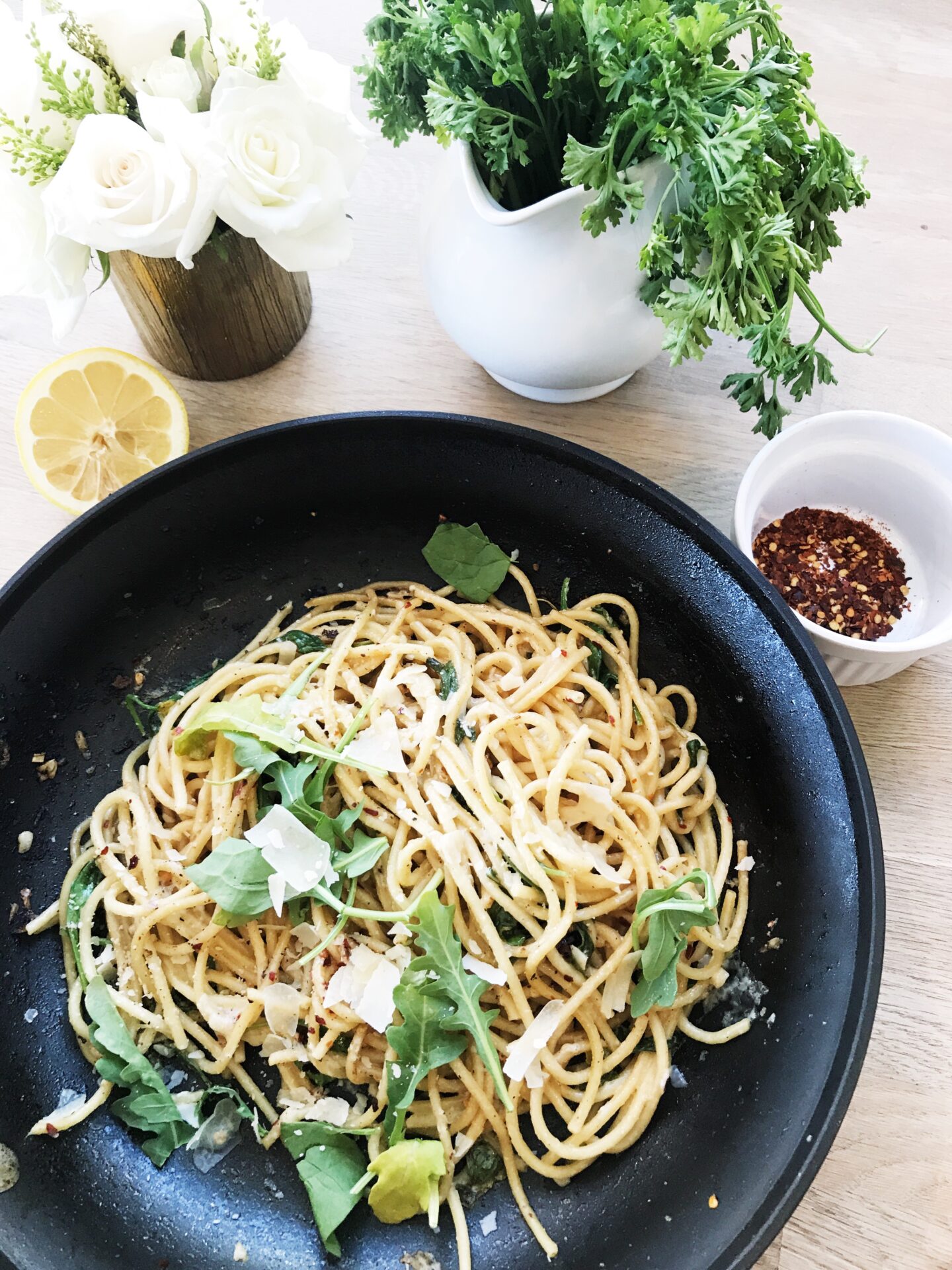 Written by Feven.
Thank you all who joined us on Sunday's Instagram Live for the 5th segment of #homewithfevenandhelena.
The truth is…I'm nervous as heck cooking on Instagram Live…but I'm learning (with your support) that I can conquer this "fear" one episode at a time.
On Sunday's #homewithefevenandhelena I showed you how to make the easiest pasta using arugula and a super simple lemon sauce.
I first made this pasta about 10 years ago for a group of friends. We were heading back to my boyfriend's place and everyone was hungry but all the restaurants were closed. The guy I was dating lived like a typical "LA bachelor" and naturally had nothing in his fridge and barely had kitchen utensils, but what he did have was: pasta, parmesan, arugula, garlic, lemon juice, salt, pepper, and chili flakes. I wanted to impress him so badly so I volunteered to cook a meal for him and his friends. Needless to say…the guy and I are no longer…but he still remembers those Martha-Stewart-meets-MacGyver-moves in the kitchen and of course…me. (Yes, that was passive shade.)
Okay…I digress…here is what you need to look like a boss in the kitchen with almost zero prep (just 2 minutes) and 15 minutes of cooking.
Prep time 2 minutes // Cook time 15 minutes //Serves 4
12 oz of Spaghetti, dried (if you feel like being a hero — make your own — but honestly…it's not necessary.)
4-5 cloves of minced garlic (I can't stress enough how much I love garlic…if you're not a fan — just mince 2 cloves — I won't be offended. )
2 tablespoons of olive oil (anything works.)
1 1/2 cups of shaved parmesan (sometimes I top off my pasta with a little bit more…just depends how how greedy I am feeling that day.)
1/4 cup of lemon juice (this is seriously the best part! I LOVE Santa Cruz lemon juice — please don't use that lemon juice that comes in that tacky yellow bottle. It. Just. Ain't. The. Same.)
1 cup of pasta water (I kid all the time that I might turn this into a business but really…before you drain your pasta save a cup of it and pour some of that water in as you are cooking your pasta. It really is a great way to infuse the parmesan into the pasta. Trust me!)
Salt (to taste) and freshly ground pepper.
Chili flakes (I'm a spicy girl so I like a lot of spice but if you're not into it…just add one tablespoon.)
Lastly… 3 cups of arugula (this is my favorite part — I love the peppery bite!)
THE PLAY BY PLAY
FIRST STEP: in a large pot of heavily salted water boil that pasta al dente and please save one cup of water before draining.
SECOND STEP: in a large skillet/cooking pan add the olive oil and minced garlic, a little bit of salt & pepper. Cook for about 3 minutes but make sure not to burn your garlic.
THIRD STEP: add the lemon juice — I perfer Santa Cruz — then toss in that drained pasta and little bit of that pasta water.
FOURTH STEP: add that parmesan and more of that pasta water and chili flakes!
FIFTH STEP: add a little more lemon juice and arugula and then season to taste with more salt, black pepper and more chili flakes (ha!)
See it's so easy! Check out how this beauty @ruheezy threw it down in the kitchen in just 15 minutes! THANK YOU QUEEN!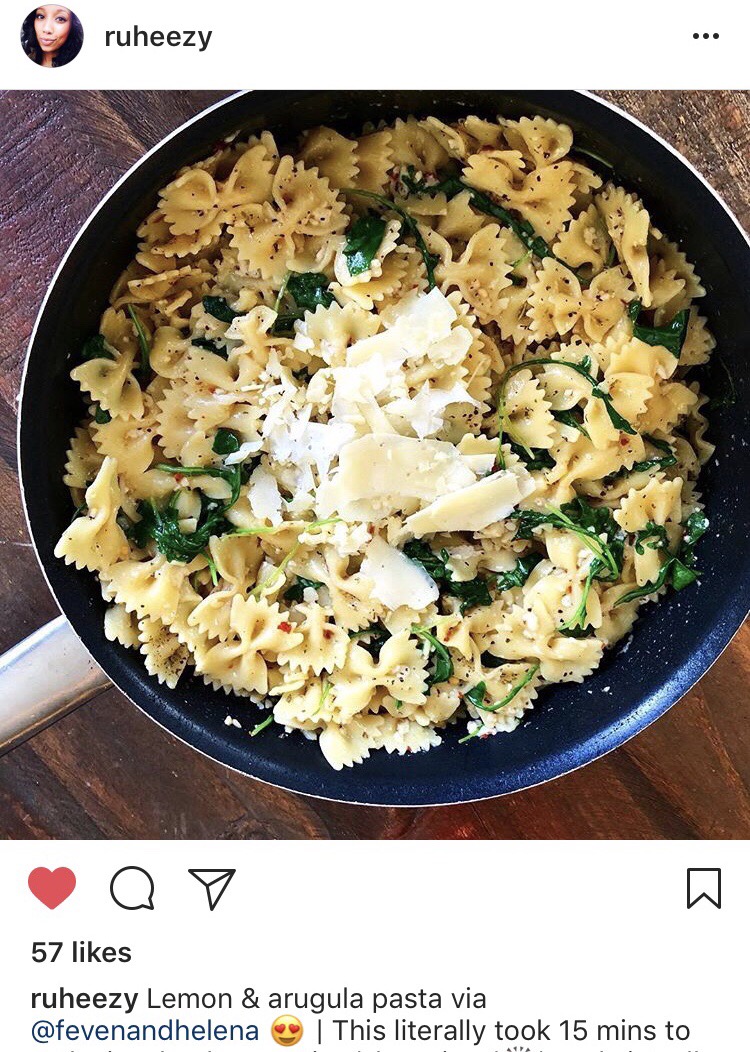 Now you try making it and tag #cookingwithfeven.
xoxo,
Feven